The Buttonhook Society
Welcome to the homepage of the Buttonhook Society, and The Boutonneur.
Welcome
This site contains information about collecting buttonhooks, and their history. These Victorian era tools were designed to help pull buttons through stiff leather on shoes and boots, or to fasten buttons on garments. Most found today date from the 1880s to the 1930s, but an early reference to this useful tool dates back to 1611.
Buttonhooks appear in many shapes and sizes, and materials utilised range from steel to gold, and from early plastic to inlaid gems. Buttonhooks are wonderful collectible items and are collected worldwide. Check the menu panel at the left of each page for a selection of articles and photographs.
The Buttonhook Society's Annual Weekend, Warminster, Wiltshire - 26-29th June 2017
The Bishopstrow Hotel and Spa
will be our base for next year's meeting and activities. Please see description below.

As discussed at the 2016 AGM, this year's meeting will be in Warminster, Wiltshire, from Monday 26th to Thursday 29th June 2017 The Bishopstrow Hotel & Spa will be our meeting point and rooms are being held for us (for a limited time only).
The hotel is on the edge of the town but less expensive accommodation may be found in Warminster, if required.
On
Tuesday 27th
we will be visiting Dents private Glove Museum in the town. Two tours have been arranged, one at 11am and one at 2pm. However, for you to know which group you are in you must ring or email Penny Savill and tell her you are coming to the meeting and which group you prefer. Please email her on pensavill@gmail.com.
In the evening we plan to have an informal meal together.
On Wednesday 28th, arrangements have been changed to accommodate the Auction of buttonhooks from the Collection of Margaret Jackson-Feilden.
We have the use of a delightful room in the hotel for the whole day. Viewing will be in the morning and the auction will be held in the afternoon. We will have a sandwich lunch on site and private dining has been arranged for the evening.
The
AGM
will now take place on
Thursday morning 29th June
, please check your hotel booking so as not to miss the auction or the AGM.
Accommodation in a double room for double occupancy to include use of the leisure facilities and full English or continental breakfast:
£130
per night.
Accommodation in a double room for single occupancy to include use of the leisure facilities and full English or continental breakfast:
£99
per night.
No formal plans have been made for dinner on the Monday night.
On Tuesday night we will have an informal two course dinner in the restaurant.
On Wednesday we will have private dining with a three course menu.
Meal prices have yet to be negotiated but I hope they will average out over the two days at roughly £26 per meal, per head.
It is a smaller hotel than we normally use and rooms will be allocated on a first come, first served basis. Please ring the hotel on
01985 878018
to book. If possible, please ring Monday – Friday, 9.00am-5.00pm, and ask for Lauren Osment or Kerri Gibson. Be sure to mention that you are a member of The Buttonhook Society to get this special rate.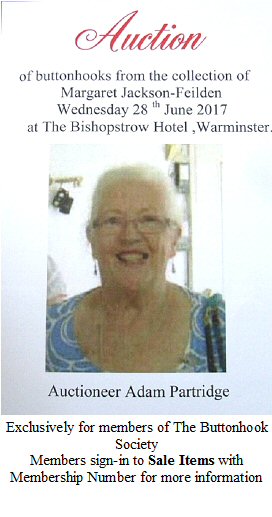 Reproductions, conversions & fakes
Click on the Reproductions, conversions & fakes link if you wish to see the latest additions. Check before you bid!