The Buttonhook Society
Welcome to the homepage of the Buttonhook Society, and The Boutonneur.
Welcome
This site contains information about collecting buttonhooks, and their history. These Victorian era tools were designed to help pull buttons through stiff leather on shoes and boots, or to fasten buttons on garments. Most found today date from the 1880s to the 1930s, but an early reference to this useful tool dates back to 1611.
Buttonhooks appear in many shapes and sizes, and materials utilised range from steel to gold, and from early plastic to inlaid gems. Buttonhooks are wonderful collectible items and are collected worldwide. Check the menu panel at the left of each page for a selection of articles and photographs.
Annual Exhibition 2018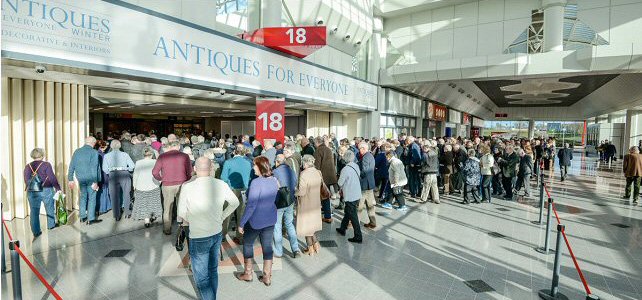 The Buttonhook Society Annual Exhibition and Meeting, July, 2018
As announced, our exhibition will run for a very short time this year - just four days from
Thursday, 19th July to Sunday, 22nd July
. This is for the duration of the
Summer Antiques Fair in the NEC (Birmingham)
. Our shortest exhibition ever, but probably viewed by more people than ever. The hall will be full of antique stalls and we will be there, too, with cases that should draw a crowd and create much interest.
www.antiquesforeveryone.co.uk/summer-2018-feature-exhibition
We have arranged our annual get together around this event and will centre our activities at the
Arden Hotel and Leisure Centre
nearby (
www.ardenhotel.co.uk
). Our Annual meeting & AGM will be in the hotel at
2.o'clock on Friday, 20th July
and we will have private dining there in the evening.
If you plan to stay overnight (or longer), please call 01675 445603, ask to speak to Megan and say you are from The Buttonhook Society. Single rooms, bed and breakfast, are £65.20; doubles £75.20. Secure the room with a card number but you will not be charged now and you will be able to cancel till the day before, if necessary.
Please book as soon as you can as some of the hotels around are full for that night
. Parking is free (£8 a night at many hotels here!).
Please contact me, too, and I will send details of dinner nearer the time. I will also need to know you are coming as I shall be able to get a ticket for you for the fair. That applies for any day, not just the Friday. We need stewards for the exhibition and welcome offers from members who are prepared to give up some of their time to chat to the general public about our collections. If you are willing to come on more than one day, you will have an exhibitor's pass.
Penny Savill
pensavill@gmail.com
Reproductions, conversions & fakes
Click on the Reproductions, conversions & fakes link if you wish to see the latest additions. Check before you bid!